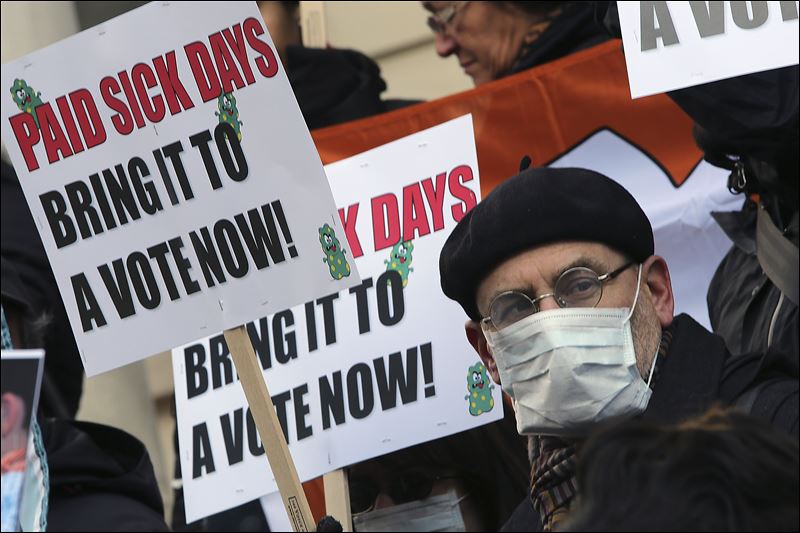 Today, President Obama will call on Congress, states and cities to pass measures to allow millions of workers to earn up to a week of paid sick time a year, the White House said. The bill, known as Healthy Families Act (HFA) would require paid sick leave as a benefit and will likely be voted on this spring. The act would cover any physical or mental illness, injury, or medical condition. The leave would be legally protected, meaning employees could sue if the company discriminated against people who take time off.
There are 43,000,000 workers in the United States that don't have any paid sick leave, therefore the President is calling on Congress to pass a law that would require companies to give at least seven (7) days, or 56 hours, of paid sick leave to their employees (to take care of themselves or a sick family member). He is also asking for $2 billion to be given to states and cities to help them pass, or start, their own programs with family and medical leave. Additionally, the President is acting on his own making it easier for federal employees to get 6 weeks of maternity leave. He is promising a big push on all of this.
What does this mean to employers?
If your company does not offer employees paid sick leave or a paid time off bank, you may be forced to do so in the future. In its current form, HFA would make it mandatory for employers with 15 or more employees to provide at least seven (7) paid sick days a year to FTE's. Part-time employees would get a prorated amount based on the numberer of hours they work.
HFA would not only apply to employees' illnesses. Much like the Family and Medical Leave Act (FMLA), it would also allow employees to tend to a sick family member. Currently the HFA defines "family member" to include any blood relative or anyone whose relationship with the employee is "the equivalent of a family relationship" (e.g., a domestic partner).
The bill would prohibit companies from reducing existing paid vacation or PTO time to offset the costs of complying with the mandatory sick days.
What if you already offer paid sick time?
If HFA passes, many employers many employers will not need to make changes to their sick-time policies, assuming the company currently gives its employees paid sick leave or at least equivalent to the HFA seven (7) day minimum.
According to government officials, studies have shown that paid sick leave not only benefits workers and their families, but employers as well because productivity increases. Many workers cant stay home when they are sick because they wont get paid.