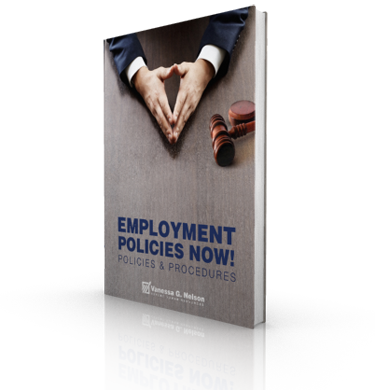 $119.99
Do you have $165,000 to throw away on settling a workplace lawsuit?
Don't make the mistake of thinking policies are not important. It takes only one time to realize the need for policies, and then it may be too late. Did you know that according to the latest data from Jury Verdict Research, the median award for all types of discrimination claims increased 46% in the past year, from $216,575 to $317,032? Retaliation verdicts also rose 51% from $146,050 to $221,250. Additionally, the average amount of damages awarded by juries in workplace related issues is $650,000. Unfortunately, employers won only about 42% of employment lawsuits in the past year.
Download employee policies today to create your own employee handbook. It is crucial for all size companies to reduce the risk of lawsuits by creating a legally compliant employee handbook. The handbook will address all areas of policy and procedure and may limit or even avoid punitive damages. Employee manuals should address everything from clear, precise vacation policies to strict compliance procedures.
Power of the Written Word
Clearly defined policies can be one of the most important communication tools between you and your employees. It also helps supervisors and managers to manage the workforce. Policies explain to employees what the company expects from them and what they can expect from the company, including:
Absenteeism and tardiness
EEO, ADA, IRCA, ADEA, etc.
Leave of absence
Safety
Dress Code
Alcohol and Drugs
Harassment
Social Media
Policies also establishes standards of conduct and protocols, such as new hire expectations, performance evaluations, corrective coaching practices, etc., as well as, provides safe harbors and legal protections, such as at-will language, harassment or issue reporting, paycheck dispute protocols, etc. Policies ensure consistency when it comes to managing different employees ins similar situations.
Sample Policy
Below please find a sample of an included policy:
Anti-Harassment and Discrimination Prevention
[Your Company Name] is committed to providing a work environment that is free from all forms of discrimination and conduct that can be considered harassing, coercive, or disruptive, including sexual harassment. Actions, words, jokes, or comments based on an individual's sex, race, color, national origin, age, religion, pregnancy, disability, genetics, or any other legally protected characteristic will not be tolerated. [Your Company Name] provides ongoing sexual harassment training to ensure you the opportunity to work in an environment free of sexual and other unlawful harassment.
Sexual harassment is defined as unwanted sexual advances, or…