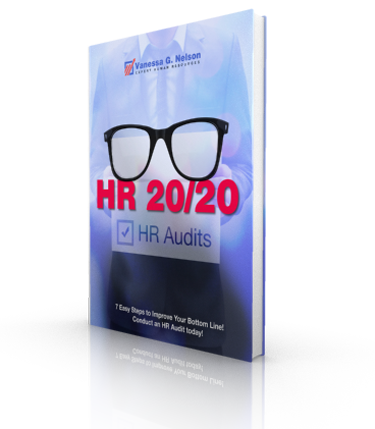 $2.99
7 Easy Steps to
Conduct an HR Audit today! Protect Your Company and Improve Your Bottom Line
Employment laws are ever changing.  Workplace lawsuits are on the rise. In some cases the violations could land you in jail!  The average lawsuit settlement is $165,000 before you pay lawyer fees; if you suffer through a jury trial when faced with litigation, it could cost you $1 Million or more.
Fines for non-compliance can add up quickly and deplete your hard earned profits. Oftentimes, employers are so busy with day-to-day operations that compliance issues and illegal practices go unnoticed. It is crucial that employers keep informed of changes in the law, as well as any changes in best practices, and other guidelines for HR Management. Conducting a Human Resources (HR) audit is a smart way to make sure your organization is legally compliant, as well as, to uncover illegal processes.
The HR audit is the process of examining intensely and objectively the organization's HR policies, procedures, documentation, systems, practices and strategies to protect the organization from litigation, to establish best practices, and to identify opportunities for improvement.  An objective review of the employer's "current state" can help evaluate whether specific practice areas are adequate, legal, and effective.
In a nutshell, the HR Audit gives organizations the opportunity to assess what the organization is doing right, as well as how things might be done differently, more efficiently, and/or at a reduced cost.  It also helps the company identify outsourcing opportunities and cost saving strategies.