Federal law requires employers to hire only individuals who may legally work in the United States—either U.S. citizens or foreign citizens who have the necessary authorization. To comply with the law, employers must verify the identity and employment authorization of each person they hire by completing and retaining Form I-9 (Employment Eligibility Verification).
Employers who hire or continue to employ individuals knowing that they are not authorized to be employed in the United States may face civil and criminal penalties. If you fail to properly complete or retain Forms I-9, you could be subject to civil money penalties of up to $1,100 for each violation.
For example: If an employer makes 3 or 4 mistakes on the I-9 form for each new hire and you've hired 30 employees, you could be fined over $100,000.
Also, criminal penalties could apply in the event that the employer engages in a pattern or practice of knowingly hiring or continuing to employ unauthorized aliens, or for engaging in fraud or otherwise misusing identity documents.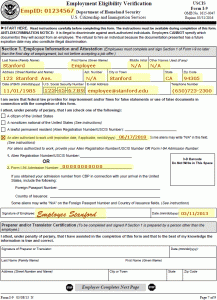 (Please see correctly completed I-9 Form above)
Who should complete an I-9 Form
All U.S. employers must fill out and keep Form I-9 for every person they hire for employment in the United States (even employees who are U.S. citizens), as long as the person works for pay or other benefits.
The I-9 Form is generally not required for persons who are:
Hired on or before November 6, 1986, who are continuing in their employment and have a reasonable expectation of employment at all times;
Employed for casual domestic work in a private home on a sporadic, irregular, or intermittent basis;
Independent contractors;
Providing labor to you who are employed by a contractor providing contract services (e.g., employee leasing or temporary agencies); or
Not physically working on U.S. soil.
When to Complete I-9 Forms:
Employers may not begin the Form I-9 process until an individual accepts an offer of employment. An employer completing Form I-9 must make available to the employee the instructions to the form and the List of Acceptable Documents.
Newly hired employees must complete and sign Section 1 of Form I-9 no later than the first day of work for pay. Employers may have employees complete Form I-9:
On the first day of work for pay.
Before the first day of work, if the employer has offered the individual a job and if the prospective employee has accepted it.
The employee must present to the employer an original document or documents that show his or her identity and employment authorization within 3 business days of the date employment begins.
The employer must use those documents to complete Section 2 of Form I-9 within 3 business days of the first day of work for pay. For example, if the employee begins work on Monday, you must complete Section 2 by Thursday.
If a person is hired for fewer than 3 business days, Sections 1 and 2 of Form I-9 must be fully completed by the employee's first day of work for pay.
How Long to Keep the I-9 Form:
Employers must retain an employee's completed Form I-9 for as long as the individual works for the employer. Once the individual's employment has terminated, the employer must keep the Form I-9 until the later of:
3 years after the date of hire, or
One year after the date employment is terminated.