The Office of Management and Budget (OMB) and U.S. Citizenship and Immigration Services (USCIS) recently announced a new I-9 Form effective January 22, 2017.
Employers may continue using the current I-9 Form, with a revision date of 03/08/2013 N and pictured to the right, until January 21, 2017. After January 21, 2017, all previous versions of Form I-9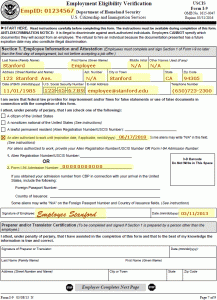 will be invalid.
Changes To The New I-9 Form.
The new I-9 Form is designed to help employers reduce technical errors for which they may be fined. Some of the changes on the new I-9 Form are:
A dedicated area to enter additional information that employers 
are currently required to notate in the margins of the form, i.e., Temporary Protected Status and Optional Practical Training extensions.
A new Citizenship/Immigration Status field at the top of Section 2.
Buttons that will allow users to access the instructions electronically, print the form and clear the form to start over.
Drop-down lists and calendars.
Embedded instructions for completing each field.
The form will validate the correct number of digits for a Social Security number or an expiration date on an identity document.
The removal of the requirement that immigrants authorized to work provide both their I-9 Form 4 number and foreign passport information in Section 1.
To streamline the enforcement of audits, the form will have the ability to generate a quick-response matrix barcode (QR code).
Executive Summary: It is important to note that the new I-9 Form is NOT an electronic I-9 Form, as employers are still required to fill out the new form using Adobe Reader. They also will be required to print the form, obtain handwritten signatures, store their I-9 Form in a safe place, and retype information into the E-Verify system.