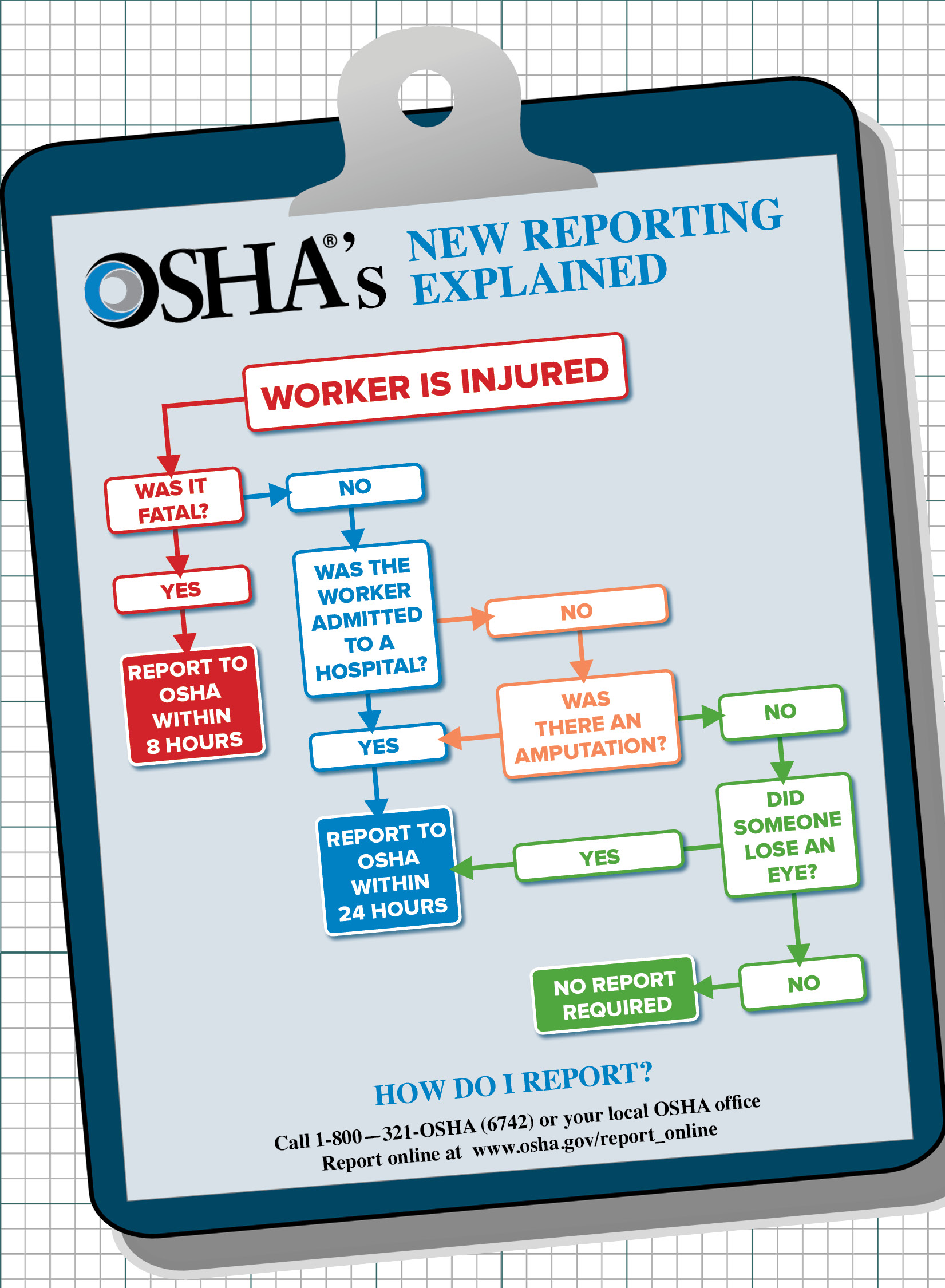 As of January 1, new regulations that govern reporting of work-related injuries and illnesses have gone into effect. In September 2014, OSHA (Occupational Health and Safety Administration) announced that new regulations would be coming in 2015 to give companies and employers time to prepare for compliance with the regulations.
Per OSHA's Fact Sheet, Under the new regulations, employers are now required to report to OSHA:
OSHA's updated recordkeeping rule expands the list of severe injuries and illnesses that employers must report to OSHA.
As of January 1, 2015, all employers must report:
All work-related fatalities within 8 hours.
All work-related inpatient hospitalizations, all amputations and all losses of an eye within 24 hours.
You can report to OSHA by:
Calling OSHA's free and confidential number at 1-800-321-OSHA (6742)
Calling your closest OSHA Area Office during normal business hours
Using the new online form that will soon be available.
Only fatalities occurring within 30 days of the work-related incident must be reported to OSHA. Further, for an inpatient hospitalization, amputation or loss of an eye, these incidents must be reported to OSHA only if they occur within 24 hours of the work-related incident.
Industry Expansion
The old reporting regulations offered some exemptions to certain industries that were seen as "low risk," such as retail stores, legal services, restaurants, and commodity traders. The new guidelines expand the reporting requirements to include all industries, regardless of their perceived safety risks.
Employers are required to report the following details to OSHA:
Name of employees involved in the incident
Time and location of incident
Type of incident
Name of employer
Contact information for employer
Description of the incident
Frequently Asked Questions from OSHA's Website:
Q: How can an employer confirm the report from an injury has been documented?
A: If you do it online, you will receive email confirmation. By phone, you will be speaking directly to OSHA representatives.
Q: What is the best URL on the OSHA site to point our branch offices to for details of their obligations to report?
A: The best way is to go to: http://www.osha.gov/recordkeeping2014
Q: What constitutes formal admittance for care? Surgeries can be either outpatient or inpatient.
A: The hospital or clinic determines whether the worker was formally admitted as an in-patient.
For more information, Click on this link to visit the OSHA website.