Will your personnel files stand up to a government audit?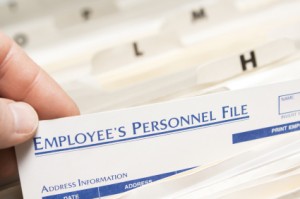 In addition to being a good business practice, employers may be required to keep certain types of records in order to comply with specific provisions
under both federal and state law. When collecting and maintaining information to be kept in employee personnel files, it is important to comply with all applicable federal and state laws, including any requirements as to what information must or should be collected, what your company may or may not do with that information, and how long employee records should be kept.
All employee records should be kept in a secure location, such as a locked cabinet or locked office.
What should be included in a basic personnel file?
Recruiting and screening documents such as applications, resumes and educational transcripts.
Job descriptions
Records relating to job offers, promotion, demotion, transfer, layoff, rates of pay and other forms of compensation, and education and training records.
Pay and compensation information.
Records relating to other employment practices (including policy acknowledgments and agreements).
Letters of recognition.
Warnings, counseling and disciplinary notices.
Performance evaluations and goal setting records.
Termination records.
It is a good idea (and in certain instances may be legally required) to keep certain employee records and information in a confidential file separate from the personnel file. Of course, other records are created and must also be maintained.
These types of records are kept separate from the basic personnel file:
Equal employment opportunity (EEO)/invitation to self-identify disability or veteran status records.
Reference/background checks.
Drug test results.
Immigration (I-9) forms.
Medical/insurance records (medical questionnaires, benefit enrollment forms and benefit claims, doctors notes, accommodation requests, and leave of absence records).
Child support/garnishments.
Litigation documents.
Workers' compensation claims.
Investigation records (although relevant disciplinary action, counseling or other direct communications are placed in the employee's personnel file).
Requests for employment/payroll verification.
Finally, some records, such as Form I-9 audits, are maintained in common files where they are easily accessible for specific purposes.
Maintaining records in separate files as discussed above allows managers, employees and outside auditors to see the information they need to make decisions, yet does not allow inappropriate access.