Excerpt from Vanessa's Book, 101 Costly HR Mistakes… and How to Fix Them!
During an HR Audit, "Simon," the Facilities Coordinator, requested to speak with me. He told me a story I will never forget.
This is Simon's Story: "I was promoted to the Director of Facilities a year ago. I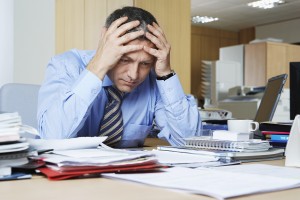 was excited and really loved it, I did my best. I stayed late and came in early. I had been in the position for about nine (9) months, and while out to lunch one day, I received a phone call from the Vice-President. The VP apologized that he unable to speak to me in person that day; so, he said he left a note on my desk. The VP did not give any details about the contents of the note; therefore I rushed back to the office, speculating and thinking about the contents of the note. Upon my return, I hurriedly read the note, which said I was not a good fit for the job and not a good Director. The note further stated I was being demoted back to the Facilities Coordinator position, effective immediately. My heart dropped and I immediately went to look for the VP to get some clarification and understanding as to why I was being demoted. Unfortunately, the VP had left for the day."
I asked Simon if he had received an evaluation during the 9 months he was in the position and he said, "No, nobody ever said a thing, I did not receive an evaluation or any feedback; I thought I was doing a great job. I am still not sure what I did wrong."
So, how would you feel?… Most of us, exactly like Simon!
The Mistake
As the above scenario outlines, when employees do not receive feedback and/or evaluations it is difficult, if not impossible, for the employee to understand company expectations. The employee may feel they are doing their jobs correctly and may believe they are exceeding expectations. In essence, they could be failing. I ask you this, what type of atmosphere will be created if employees are confused as to their expectations. It could devastating to productivity. Also, lack of administering performance evaluations could open the employer up to expensive litigation, i.e., wrongful discharge!
How To Fix the Mistake
Employers should take the time to conduct performance evaluation. It is recommended that new hires be evaluated every 30 days, 60 days and 90 days. Regular employees should be evaluated bi-annually at the least. Promoted employees should be evaluated the same as a new hire.
Providing evaluations take the guesswork out of employee performance and expectations. It also can protect the organization from risk.
To read this story and similar stories, click here to purchase 101 Costly HR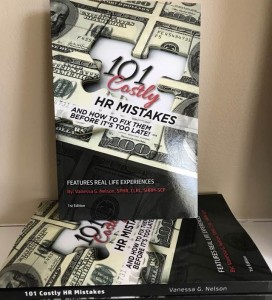 Mistakes…and How to Fix Them!