A few years ago, Syed Rizwan Farook and Tashfeen Malik, a married couple, shot and killed 14 people and injured 21 others at the Inland Regional Center in San Bernardino, California. The two targeted a San Bernardino County Department of Public Health training event and holiday party with about 80 employees in attendance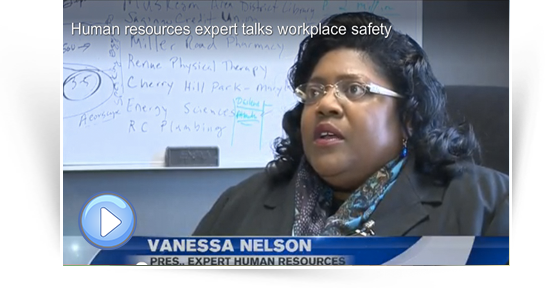 at the rented auditorium. Before the shooting, Syed Farook had attended the event as an employee.
This horrendous crime proves that violence can happen at any time. Are you as prepared as you can be?
Expert Human Resources is providing the following information regarding workplace violence to help you Protect Your Workforce.
Workplace Violence Statistics and OSHA Requirements
According to the Bureau of Labor Statistics Census of Fatal Occupational Injuries (CFQI), there were 506 workplace homicides that occurred in the United States in 2010. Homicide is the leading cause of death for women in the workplace. Workplace violence is a major concern for employers and employees.
The Occupational Safety and Health Administration law requires that employers provide their employees with safe and healthful workplaces. The OSHA law also prohibits employers from retaliating against employees for exercising their rights under the law (including the right to raise a health and safety concern or report an injury).
Risk of Liability
Acts of violence in the workplace can result in death of workers, as well as, expensive legal actions against employers. Risks can include:
Civil actions for negligent hiring, retention or supervision
Workers' Comp claims
Increase in FMLA and leave
Claims resulting from ADA
OSHA citations, fines, and criminal charges.
Therefore, it is essential that steps be taken in an effort to prevent workplace violence.
Although, there is no iron clad method to determine who might engage in violent behavior on the job or how to stop violence. The best thing employers can do to be prepared is to be educated. Experts on workplace violence provide psychological profiles of typical violent offenders/perpetrators and how to spot them. We are listing 10 of those profiles below:
A controlling nature, change can unravel him or her
Obsession with power
Violent opinions, usually blame victims
Paranoia, believes people are out to get him or her
Frequently using malicious references, i.e. "She will get hers…"
Angry most of the time and always seething
Frequently stressed
Threatening behavior
Heavy drinkers, smokers, possibly drug users
Displays strange behavior
What should employers do?
Employers should:
Not be in denial
Be aware and train managers
Offer EAP services
Work with HR regarding suspicious behavior and policy interpretation
Need help? Call us today for assistance at (877) 356-6175 or complete form below.