Sexual harassment is on the rise. Sexual harassment is a form of discrimination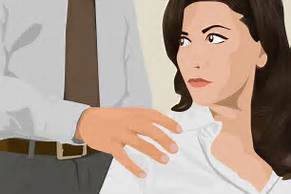 that violates Title VII of the Civil Rights Act of 1964. As an employer, you have a responsibility to maintain a workplace that is free of sexual harassment. This is your legal obligation, but it also makes good business sense. If you allow sexual harassment to flourish in your workplace, you can pay a high price in poor employee morale, low productivity, and lawsuits.
To help you protect your organization, below is a FREE sample customizable Sexual Harassment Policy. When customizing the policy for your organization, you can remove the information in the brackets [ ] and insert your organization's information, as appropriate. Please note: The Sample Sexual Harassment policy below is merely a suggestion to help you prevent sexual harassment and discrimination in the workplace. It is highly recommended that you consult with your HR representative, legal representative, or other(s), as appropriate, before implementing the policy below. 
Anti-Harassment and Discrimination Prevention Policy
[XYZ Company] is committed to providing a work environment that is free from all forms of discrimination and conduct that can be considered harassing, coercive, or disruptive, including sexual harassment. Actions, words, jokes, or comments based on an individual's sex, race, color, national origin, age, religion, disability, or any other legally protected characteristic will not be tolerated.
Sexual harassment is defined as unwanted sexual advances; or visual, verbal, or physical conduct of a sexual nature. This definition includes many forms of offensive behavior and includes gender-based harassment of a person of the same sex as the harasser. The following is a partial list of sexual harassment examples:
Unwanted sexual advances.
Offering employment benefits in exchange for sexual favors.
Making or threatening reprisals after a negative response to sexual advances.
Visual conduct that includes leering, making sexual gestures, or displaying of sexually suggestive objects or pictures, cartoons or posters.
Verbal conduct that includes making or using derogatory comments, epithets, slurs, or jokes.
Verbal sexual advances or propositions.
Verbal abuse of a sexual nature, graphic verbal commentaries about an individual's body, sexually degrading words used to describe an individual, or suggestive or obscene letters, notes, or invitations.
Physical conduct that includes touching, assaulting, or impeding, or blocking movements.
Unwelcome sexual advances (either verbal or physical), requests for sexual favors, and other verbal or physical conduct of a sexual nature constitute sexual harassment when:
Submission to such conduct is made either explicitly or implicitly a term or condition of employment,
Submission or rejection of the conduct is used as a basis for making employment decisions; or
The conduct has the purpose or effect of interfering or creating an intimidating, hostile, or offensive work environment.
 Individuals and Conduct Covered
These policies apply to all applicants and employees, whether related to conduct engaged in by fellow employees or someone not directly connected to [XYZ Company] (e.g., an outside vendor, consultant or customer). Conduct prohibited by these policies is unacceptable in the workplace and in any work-related setting outside the workplace, such as during business trips, business meetings and business-related social events.
If you experience or witness sexual or other unlawful harassment in the workplace, or discrimination; report immediately to your [Supervisor, and/or any member of Management of the organization]. You can raise concerns and make complaints without fear of reprisal or retaliation. All allegations of harassment will be quickly and discretely investigated. Employees are required to participate in in-house investigations. Failure to cooperate could lead to discipline, up to and including termination. To the extent possible, your confidentiality and that of any witnesses and the alleged harasser will be protected against unnecessary disclosure. When the investigation is completed, you may be informed of the outcome of the investigation.
[Any member of Management] who becomes aware of possible sexual or other unlawful harassment must immediately advise the [Management Official(s) or other(s)] so it can be investigated in a prompt, timely manner. Anyone engaging in sexual or other unlawful harassment will be subject to disciplinary action, up to and including termination of employment.